Stanley Steyer and Diana Kintzel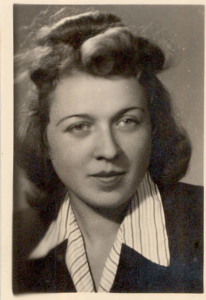 In 1943, Diana (Danuta) Kintzel, a young Polish Catholic woman, became acquainted with Stanley Steyer- and quickly fell in love.  Diana was 22 years old, and she had recently moved to Warsaw.  It was wartime–the Nazis had just burned the Warsaw ghetto to the ground.  Diana knew that by entering into a relationship with Stanley, she would be taking a huge risk, and putting her family in danger, too.  Nevertheless, Diana joined Stanley in his clandestine activities.  Together, the couple used Stanley's business as a front for hiding and supporting his Jewish friends and relatives.   Diana's older brother Tadeusz provided additional support.
When Diana and Stanley were married, both of Diana's older siblings, Tadeusz and Krystyna, were present.
Stanley and Diana found living quarters with Diana's cousins, Jan and Regina Kwasowski, and their daughter Barbara.  
Stanley began to learn more about Diana's nuclear family.  Diana had grown up mainly in the town of Zamość, southeast of Warsaw.   Her father, Józef, was an opera singer and stage director, and her mother, Władysława, was a classically-trained pianist.  Diana herself dreamed of being an opera singer before the war; in addition to studying voice, she played piano, guitar, and organ.  Music gave Diana great joy – this was an individual who strove for higher beauty.  
When the war broke out, Diana took a job as a typist in Zamość.  When Stanley met her in Warsaw, she was studying cosmetology.  Diana and her brother Tadeusz soon began to take on jobs that would have been risky for Stanley: finding apartments for the Jews he was hiding, or bringing them sustenance.  The selfless choices that Diana made during the war helped to save the lives of others – but as we'll see, they also had a tremendous impact on her own life in the years moving forward.